LOUISVILLE, Ky. (WDRB) — Police said one person is in custody after two people — a man and a woman — were shot to death at a New Albany gas station Monday morning.
It happened just after 10 am at the Circle K near the intersection of Beechwood Avenue and Grant Line Road.
Two bodies could be seen on the ground in the parking lot, and police on the scene had marked several shell casings on the ground.
Police were also at a second scene near Interstate 265 and Charlestown Road. Neighbors reported seeing police activity and hearing what sounded like several gunshots near the vicinity of The Onion Restaurant & Tea House.
The two scenes were related, according to Indiana State Police spokesman Sgt. Carey Huls, and the second scene involved a hostage situation.
Huls said the suspect involved at the double homicide at the gas station fled in a red SUV. Police said the car somehow became damaged, and the suspect got out of the vehicle and ran into The Onion Restaurant & Tea House. Inside, he allegedly took a woman hostage and forced her at gunpoint into a silver SUV.
Police said the woman fell from the vehicle and was injured.
At that point, police said the suspect drove the vehicle at officers. That's when, Huls said, officers opened fire on the suspect, shooting him as he crashed the vehicle.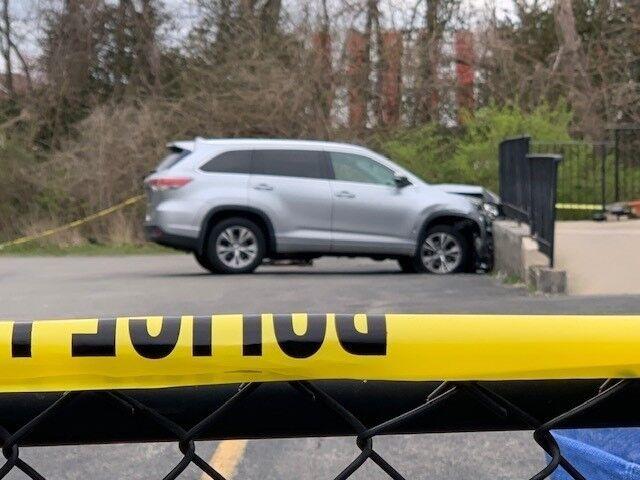 Both the suspect and the host were taken to the hospital. Their injuries are not believed to be life threatening, Huls said.
He said two officers with the New Albany Police Department fired their weapons, as did a deputy with the Floyd County Sheriff's Department.
New Albany Police Chief Todd Bailey issued a statement Monday morning, saying in part that, "after an initial review of the incident it appears all officers at the scene of the officer involved shooting followed policy and acted appropriately."
The suspect has not yet been publicly identified.
Huls said the New Albany Police Department will handle the investigation of the Circle K homicide scene, while the Indiana State Police will investigate the scene at The Onion Restaurant & Tea House and the police-involved shooting.
Huls said investigators are in the process of interviewing witnesses and collecting surveillance video from businesses in the area.
Several Circle K customers who were on the scene at the gas station when the incident occurred were still inside the store being interviewed by police. Several roads around the gas station, including nearby Beechwood Avenue and Grant Line Road, were blocked off as part of the investigation.
Copyright 2022 WDRB Media. All Rights Reserved.
.