Not long after President Joe Biden spoke in Poland about the war in Ukraine, the White House backtracked a statement they say was unscripted. This comes just one day after Biden had another slip of the tongue while talking to American troops in eastern Europe.
At the conclusion of his speech in Warsaw on Saturday, Biden said Russian President Vladimir Putin "cannot remain in power" after his country's invasion of Ukraine and continued attacks.
"We will have a different future—a brighter future rooted in democracy and principle; hope and light, decency and dignity; of freedom of possibilities," Biden told about 1,000 people, which included some Ukrainian refugees. "For God's sake, this man cannot remain in power."
The White House issued a statement that declared Biden's remark was not part of the prepared speech, and that there was no call for a regime change in Moscow.
"The President's point was that Putin cannot be allowed to exercise power over his neighbors or the region," the statement read. "He was not discussing Putin's power in Russia, or regime change."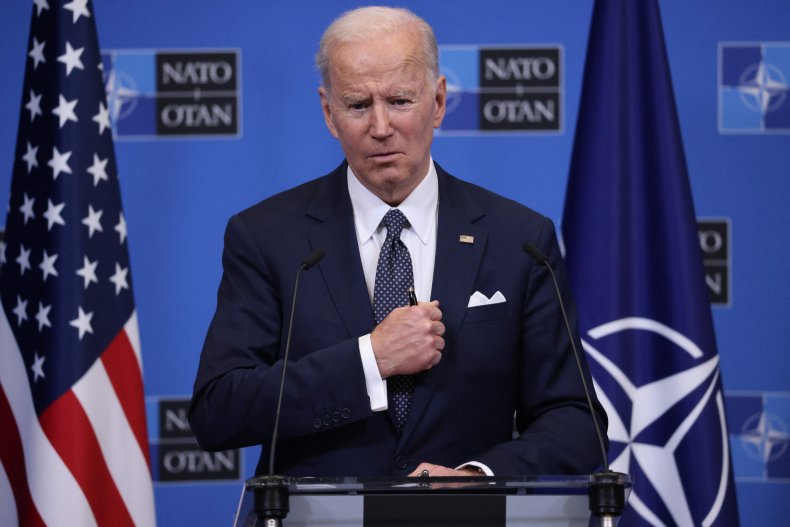 A day earlier while visiting US troop in Poland, the president seemed to tell them they'd soon be in Ukraine, which deviates from a previous promise of not sending American forces into Ukraine.
"You're going to see when you're there, and some of you have been there, you're gonna see — you're gonna see women, young people standing in the middle in front of a damned tank just saying, ' I'm not leaving, I'm holding my ground,'" Biden told the Army's 82nd Airborne Division after sharing pizza and taking selfies with many of them.
The White House backtracked that statement as well.
"The president has been clear we are not sending US troops to Ukraine and there is no change in that position," the White House said in a statement to The New York Post.
On Saturday, after the second backtrack in as many days by the White House, Biden's social media staff sent a barrage of tweets solely focused on Ukraine, toughness on Russia and compassion for American soldiers. Here is what the president stated.
"My message to the people of Ukraine is the message I delivered today to the Ukrainian Foreign Minister and Defense Minister: We stand with you," his official Twitter read handle at 4:32 pm ET, more than an hour after the White House took back his freelance statement.
He posted this at 5:01 pm
About 45 minutes later, the president posted this video with soldiers in Poland, thanking them for their service to America.
About 10 minutes after the video posts with the troops, Biden tweeted this about Ukraine President Volodymyr Zelensky and Russia President Vladimir Putin.
"Putin has the gall to say he is "de-Nazifying" Ukraine. This lie isn't just cynical. It is obscene. President Zelenskyy was democratically elected. He is Jewish — his father's family was wiped out in the Nazi Holocaust."
About 15 minutes passed by before Biden tweeted about sanctions on Russia, and what it's done to their economy.
"As a result of our unprecedented sanctions, the ruble was almost immediately reduced to rubble. The Russian economy is on track to be cut in half. It was ranked the 11th biggest economy in the world before this invasion — and soon, it will not even rank among the top 20."
Then 34 minutes passed by before Biden said Russian people "are not the enemy."
"To the Russian people: You are not our enemy. The American people stand with you and the brave citizens in Ukraine who want peace."
His tweets for damage control came along fast and furious, from "We are here for the people of Ukraine" to talking about how much money the US has sent Ukraine in weapons, and how much more is on the way.
Some of his tweets were excerpted from his Saturday speech, complete with video. Tweets still rolled in around 9:30 pm Saturday, long after his speech was over and the White House backtracked comments.
The war in Ukraine has now entered a second month since Russia invaded their neighboring country.