NEWYou can now listen to Fox News articles!
Jesse Watters welcomed The New York Times editorial board into "all of our worlds" Friday after he faced backlash for "telling the truth" about cancel culture on "Jesse Watters Primetime."
JESSE WATTERS: Similar situation with this cancel culture story that I just told you about, the Times is getting raked over the coals for publishing that today. Here are the headlines.
"This Free Speech Take Is Staggering in Its Dishonesty." "Readers Blast New York Times for Appalling Claims It Makes about Free Speech." "The New York Times Editorial Board Should Retract and Resign."
FLASHBACK: NEW YORK TIMES SLAMS CANCEL CULTURE, ATTACKS ON FREE SPEECH DESPITE PAST TOM COTTON OP-ED FIASCO
Keith Olbermann, do you remember that guy? Well, he's furious. He says here, "There is not freedom to have any opinion without consequences." According to Olbermann, opinions are the real crime wave.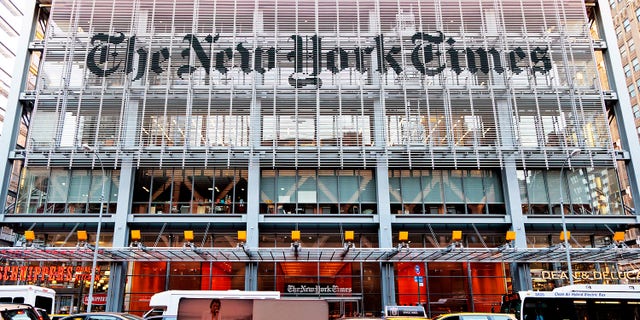 We never thought we'd see this, but liberal pundits and journalists across the country today, saving the Times and demanding the resignations of everybody on the editorial board. They want to cancel The New York Times for writing cancel culture doesn't exist or does. No, you better retract, or you're canceled, quote, "It's hard to imagine a more fundamental misreading of the freedom of speech — or an organization whose credibility depends more on understanding it correctly than today's lead editorial from The New York Times editorial board. Here's my solution, correct this editorial and resign."
Welcome to my world, New York Times. Welcome to all of our worlds. Now you know what it feels like when you tell the truth in America. Telling the truth has become the most dangerous thing you can do in the United States. You can hurt people and get bailed out. You can lie and win a Pulitzer. You can cover up the truth and win an election. But if you tell the truth, you can lose everything — your livelihood, your reputation — everything. Maybe The New York Times finally realized being in the business of lying isn't good for business. You know, especially as a newspaper. Maybe they'll tell the truth about Dr. Fauci now. Maybe they'll tell the truth about the border. Maybe, maybe they'll tell the truth about the difference between men and women — maybe. And maybe they might even start saying Merry Christmas.
WATCH THE FULL SEGMENT HERE: